Process: Madibane High School
Date:
08 August 2006
Route Guide:
Ali Hlongwane (Curator HPMM)
Documenter:
Ismail Farouk
On the 8th of August 2006, Ali Hlongwane and I set off to retrace the route taken by students from Madibane High School in Diepkloof. The street layout of Diepkloof differs from the rest of Soweto. Most roads form crescents and there is an absence of street name signage. As mentioned before most major roads are named ā€˜Imminkā€™, which adds to the confusion when trying to navigate the suburb.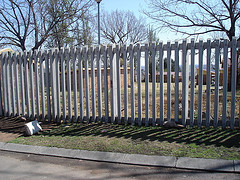 Figure:
Madibane High School Route Starting Point
After much difficulty, Ali and I located the spot on the eastern boundary of the school on Ramosi Street, where the small gate exit was located in 1976. Today the small gate is no longer in use and the school has been fenced off. This is where students began their march on June 16 1976 from Madibane high School. Ramosi Street forms a crescent and we followed the road in a northerly direction and then in an easterly direction before coming to a T-junction.
We turned left into Patrick Street and right into the major Immink Road and proceeded south towards the intersection of Immink Road and Eben Cuyler Street. We crossed the intersection and stopped outside the sports grounds to our left. This is where students from Madibane High School joined the group from Junior Secondary School. Their intention was to march to Orlando stadium but news of the killing of Hector Pieterson filtered through and the intended march did not take place. Instead students became angry and set off on a rampage destroying all government administration buildings.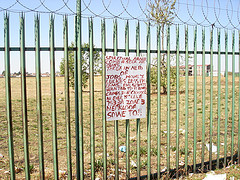 Figure:
The meeting spot - Diepkloof Sports Grounds
One of the buildings which was targeted was a WRAB beer hall which was located on the intersection of Eben Cuyler Street and Immink Road. The beer hall was looted and gutted by students on June 16. The looting was followed by drinking and partying, signaling that the next few days were destined to be spent at home.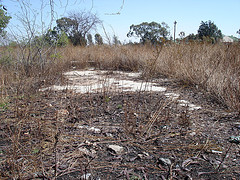 Figure:
The WRAB Beer Hall Site - Diepkloof
A bit further down Eben Cuyler Street, Ali pointed out the ā€œBlackjacksā€ offices. ā€œBlackjacksā€ were police who enforced influx control. Today, the offices have been reduced to rubble. New social facilities are being developed on the site.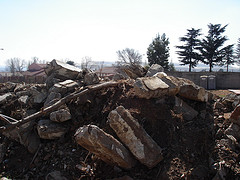 Figure:
Rubble from the original Blackjacks offices

Diepkloof remained as one of most active townships in 1976 where running battles between police and students continued for some time later. For the rest of the year, all schools were closed, with no further learning taking place.
Labels: Diepkloof, Madibane High School, School Routes, The Routes