Process: Junior Secondary School Route
Date:
10 August 2006
Route Guide:
Ali Hlongwane (Curator HPMM)
Documenter:
Ismail Farouk
On the 10th of August 2006, Ali Hlongwane and I set off to retrace the Junior Secondary School route in Diepkloof. Junior Secondary School has been renamed to Bopasenatla High School and is located on Sono Street in Diepkloof. Sono Street exists on an east-west axis and was difficult to identify, mainly because of the absence street signs. Ali spent his childhood years in Diepkloof and has an intimate knowledge of the many passageways and unnamed roads which characterise the area. His knowledge and memory of the area was invaluable as we struggled to find appropriate street names. Our map of the Diepkloof area was highly inaccurate and still bears coded reference numbers as street names. To add to our confusion, Diepkloof has many streets and roads with the same name. Most roads are called 'Immink'.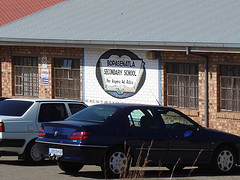 Figure:
Junior Secondary School
After documenting the current schoolyard, Ali pointed out an adjacent vacant lot which was the site of WRAB offices in 1976. The WRAB offices were destroyed in the aftermath of Hector Pieterson's killing. The land has remained undeveloped ever since.
We began by crossing Sono Street and walked in a northerly direction towards Mbila Street which forms a crescent. At the northern end of Mbila Street we proceeded through a pedestrian passageway which connects with Dlanga Street which also happens to form a crescent. We continued on our northerly trajectory through a second pedestrian passageway. The environmental conditions through both the passageways were very poor. The area was characterised by illegal dumping along the edges.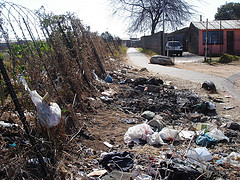 Figure:
The first passageway
At the northern end of the second passageway, we stopped near a dusty soccer field. From here we could clearly see Vulazamazibuko Higher Primary School just ahead. This is where Ali went to School in 1976. He commented on how he still remembers seeing large crowds of students emerging from the passageway which we had just walked through on their way to meet students from Madibane High School. This is where Ali joined the march.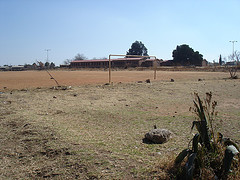 Figure:
Dusty Football Field
On the northern boundary of Vulamazibuko Higher Primary School, on Tsekuhle Street, Ali pointed out the house of the Zulu shaman, Credo Mutwa. Credo Mutwa's house was destroyed during the uprisings for comments he made regarding the negative nature of the uprisings. After a brief pause, we continued north on Immink Street. We stopped at the intersection of Immink and Eteza Streets, where Ali pointed out his childhood home to me.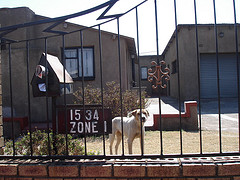 Figure:
Ali Hlongwane's Childhood Home
Ali commented on how drastically the environment has changed over thirty years. Further down Eteza Street, new larger residences have been built. One such residence, on the corner of Eteza and Umhanga Streets was a former WRAB office which was also attacked and destroyed during the uprisings. At the end of Eteza Street we paused and looked at the park and offices ahead. The offices ahead were WRAB administration buildings which were burnt and destroyed. Today, the former WRAB site is home to municipal rental offices. The park which surrounds the municipal offices exists in a poor, overgrown state. Ali commented that the park has been recently upgraded but a lack of management has led to its current poor condition.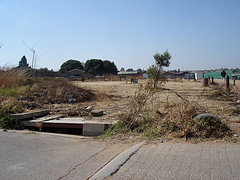 Figure:
Overgrown Park Diepkloof
We turned right up Immink Road and continued in a Northerly direction on our final part of our journey towards the sports grounds near Eben Cuyler Street. Here students joined the group from Madibane High School but instead of marching to Orlando Stadium as intended, news of Hector Pieterson's death filtered through the ranks and the intended peaceful march turned to anger as students attacked buildings associated with the apartheid regime.
Labels: Ali Hlongwane, Junior Secondary School, Process, School Routes, The Routes