Robert Sobukwe and the PAC Positive Action Campaign against the Pass Laws Act of 1952.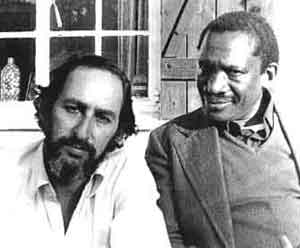 Figure:
Benjamin Pogrund & Robert Sobukwe (
http://www.wits.ac.za/histp/sobukwe.htm
)
On March 18th 1960, Robert Mangaliso Sobukwe, the leader of the PAC announced at a press conference that the PAC would launch the first phase of its 'programme' for the liberation of South Africa on Monday, March 21, 1960. The target of this campaign would be the pass laws. A door-to-door campaign was reinforced with a call on all pass-carrying African men to leave their passes at home, march to the police stations nearest them and demand to be arrested for refusing to carry a pass (www.wits.ac.za/histp/sobukwe_bio.htm).
In the build-up to 21 March, the PAC President, wrote to the Police Commissioner in Cape Town asking him to instruct his men not to allow themselves to be provoked into violence:
"Sir: My organization, the Pan-African Congress, will be starting a sustained, disciplined, non-violent campaign against the pass laws on Monday, 21 March 1960. I have given strict instructions, not only to members of my organization but to the African people in general, that they should not allow themselves to be provoked into violent action by anyone. It is unfortunately true that many white policemen, brought up in the racist hothouse of South Africa, regard themselves as champions of white supremacy, and not as law officers. In the African they see the enemy, a threat, not to "law and order" but to their privileges as whites.
I, therefore, appeal to you to instruct your men not to give impossible demands to my people…"
- Extract from Robert Sobukwe's letter to SAP, Major-General C.I. Rademeyer (Pogrund 1990:123).
Early in the morning of Monday, 21 March 1960, Robert Sobukwe left his house with six of his colleagues. They walked down the street towards the main tarred road. Here, they turned right towards the grocery store owned by Tshabalala. They were met by 10 – 15 men and after a while the group set off up the hill towards Dube Station and turned right to head for Orlando Police Station about 4.5 km away. An hour later, they reached the police station. There were scores of protestors already at the police station when Sobukwe's group got there. (Pogrund 1990)
By 08h20am, Sobukwe, Leballo and others walked through the gates of Orlando Police station and requested to be arrested for not carrying any passes. In the charge office Captain J.J de Wet Steyn was a bit annoyed at being disturbed and asked Sobukwe and the others to wait outside the police station. He later came outside and warned the crowd not to make a noise or he would "take steps" (Pogrund 1990:131).
And so the PAC men spent the first half of the morning waiting across the road under the shade of a bluegum tree. It was during this period that Sobukwe learnt that police had opened fire at Bophelong and he was visibly upset. Pogrund, decided to drive to Vereeniging to see what was happening. (Pogrund 1990)
By 11:20am a policeman came outside and called out the names of the PAC leadership. Sobukwe, Leballo and the other core members were placed under arrest for 'incitement'. The police asked the remaining members to leave, but the PAC members insisted that they wanted to be with their leaders, so the police arrested the remaining group.
Later that afternoon police opened fire on people in Sharpville. The precise number of deaths is uncertain, and has been variously stated as 67, 69 or 71 (Pogrund 1990). 186 people were injured, 40 women and 8 children. 75% of victims were shot in the back whilst three policemen were slightly injured by stones. (Pogrund 1990)
During the day, information of the Sharpville massacre reached Sobukwe. He was extremely disturbed by the news but urged his comrades to remain calm. Sobukwe and his colleagues were sentenced to three years under 'incitement laws', but before his term of imprisonment ended on Robben Island, the government introduced an amendment to the law enabling them to keep Sobukwe and others in indefinite detention. (http://www.wits.ac.za/histp/sobukwe_bio.htm)
Sources:
1. Historical Papers, Wits University, http://www.wits.ac.za/histp/sobukwe.htm
2. Pogrund, P. (1990): How Can Man Die Better: The Life of Robert Sobukwe, Houghton Mifflin, South Africa.
Labels: 21 March 1960, Other Routes, PAC, PAC Route