Process: Tshesele High School Route
Date:
03 August 2006
Route Guide:
Antonette Sithole (June 16 Foundation)
Documenter:
Ismail Farouk and S'phelele Nxumalo (ASM)
Observer:
Oupa Moloto (June 16 Foundation)
On Thursday 3rd August 2006, Our research group began to map the route taken by Antonette Sithole on June 16 1976 from Tshesele High School in Central Western Jabavu to Phefeni Junior Secondary in Orlando West. Sithole is Hector Pieterson's older sister. Today she works for the June 16 Foundation which is located within the Hector Pieterson Museum.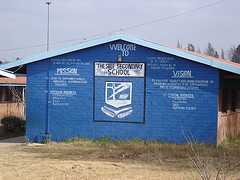 Figure:
Tshesele High School
At the beginning point, within the Tshesele school grounds, Sithole described how students from the nearby Morris Isaacson High School came to her school to collect students in their united march against the oppressive system. Sithole said, "We were very happy with pride, we were looking forward to uniting with other schools. It was the first time that students were without parents and so very happy. No one told us what to do and we were happy to miss school. Singing and chanting…we were told to be calm and not to provoke the police…We planned to walk on the main street but took short cuts to avoid police".
We left the school grounds and walked in a northerly direction on Diokane Street. I asked Sithole how her brother Hector got involved in the march, to which she replied, "The younger one's saw us leaving in our uniforms and wanted to join the excitement".
We turned right off Diokane Street, into Mavi Street and left into Mlangeni Street and proceeded west towards Mputhi Street. At this point, Tshesele High students joined the main group from Morris Isaacson High School. Today a general dealer called Sizwe Stores is located at this meeting point. In 1976, there was a coal yard on the site. Oupa Moloto commented that there were about 2000 students in the group outside the coal yard.
From this point, Sithole directed us north on Mputhi Street past the Mshenguville Squatter camp. We soon turned right onto Mwasi Street and proceeded through Mofolo Park on Mzilkatzi Street.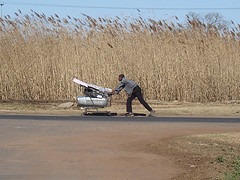 Figure:
Trolley Pusher on Mzilkatzi Street.
We turned right into Mptipa Street and stopped outside the home of Dr. Nthato Motlana. Dr. Motlana devoted his live to serving the community of Soweto. He was the founder of the Black Medical Discussion Group in the late sixties to raise funds for struggling medical students and was involved in many other community organisations (Mashabela 1987). It was here outside the home of Dr. Motlana where Tsietsie Mashinini addressed students warning them about a police presence and calling for calm.
I asked Moloto how Tsietsie got to this point as he had just addressed another group of students at the landmark bridge on Machaba Street. Moloto explained that unmarked vehicles were used by the coordinators of the march on the day. He suggested that the vehicles were hired by members of the ANC. Tsietsie was driven around and was therefore able to address various groupings of students at various stages of the march.
The route meandered along Mtipa Street and we soon turned uphill on Butshingi Street. At the top of Butshingi we turned right into Vilikazi Street. Further on Vilikazi Street we stopped at the official shooting site of Hector Pieterson on the corner of Vilikazi and Moema Streets. The memorial is often vandalised by youth who express themselves through graffiti.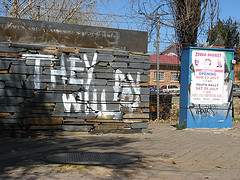 Figure:
The Memorialised Shooting Site
According to Sithole, the location of the official shooting site differs from the actual spot where her brother was shot. She remembers the shooting site being closer to the corner of Moema and Phiri Streets where she was hiding in the yard of the corner house.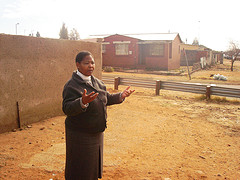 Figure:
Antonette Sithole relives the events of June 16 1976.
I asked Sithole what happened here once she got here? Sithole relates: "When the shooting began, I went into hiding. When the shooting stopped, I came out of hiding when others came out. I saw Hector across the street, and I called him and waved at him, he came over and I spoke to him but more shots rang out and I went into hiding again. I thought he followed me but he did not come. I came out of hiding and waited at the spot where I just saw him but he did not come. When Mbuyiso came passed me a group of children were gathering nearby. He walked towards the group and picked up a body...And then I saw Hector's shoes".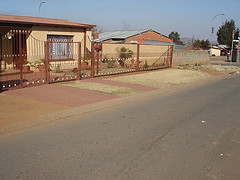 Figure:
The Famous Photo Site
A short time later Sithole was running beside Mbuyiso who was carrying Hector Pieterson. They headed towards Phomolong Clinic along Sisulu Street. Along the way, a photographer called Sam Nzima took the famous picture of the distressed children.
Whilst at the clinic Sithole watched a frenzied mob kill a white municipal worker who was later identified as J.N.B. Estherhuizen. He was dragged from his car and brutally killed. Estherhuizen was one of two white officials killed on the day.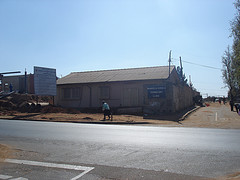 Hector Pieterson was pronounced dead here at Phomolong Clinic. Today, Sithole continues to keep her brother's memory alive with her work at the museum and as a public speaker. When not in the museum, she can be found on the streets of Soweto, physically laying the bricks on the the route taken by students on June 16 1976.
Labels: Process, School Routes, The Routes, Tshesele High School