You are looking at posts tagged with Hector Pieterson.
Friday, May 18, 2007
Nothing changes: Same Shit, Different Day
A work by Babak Fakhamzadeh, available on Flickr: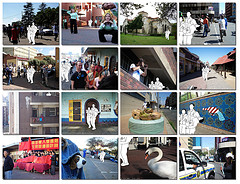 Labels: art, Flickr, Hector Pieterson, Soweto
Monday, April 09, 2007
Hector Pieterson videorama
This composite videorama consists of four individual videos, stitched together like a panorama. The videos were taken in front of the Hector Pieterson museum. The monument on the right is the Hector Pieterson monument.
Labels: art, Hector Pieterson, Soweto, videorama